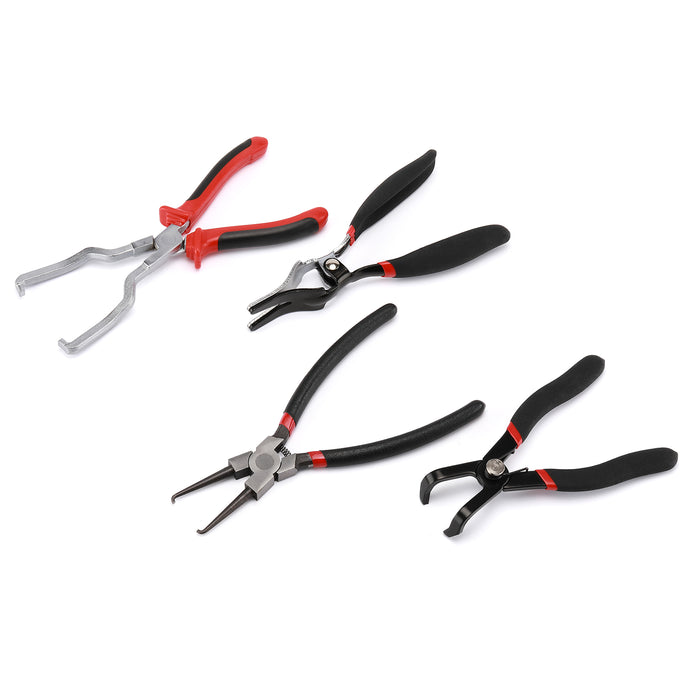 CASOMAN 4PCS Fuel Line Pliers Set, Hose Remover Pliers, 9 Inch Fuel Filter Caliper, Hose Pipe Clamp Clip, 80 Degree Disconnect Pliers Set for Auto Maintenance
Sale
Sale
Original price
$35.97
-
Original price
$35.97
The 4pcs fuel line pliers set is the best tool to solve any fuel line-related project. Set include: a hose remover pliers, a 9'' fuel filter caliper, a hose pipe clamp clip and 80 degree disconnect pliers.

Hose Remover Pliers, it's the best way to remove hose clamps for fuel and small water hoses, regardless of type (fuel, water, transmission, rubber, cooler lines) and diameter (5/32" to 1/2", 4mm to 14mm).

80 Degree Disconnect Pliers, professional design, work faster. It's perfect for working on old hard plugs and fuel line fittings that must be pressed down to disengage, the curved jaws are more suitable for operation in narrow spaces and can also protect your hands from injury.

Hose Pipe Clamp Clip is suitable for removal and replacement of connections on fuel filter lines (petrol & diesel). Upgarded maximum opening approx: 9.3CM/3.66IN. It's suitable for use in larger spaces, and compress the quick disconnect lugs without damaging connector.

9" Length Fuel Filter Calipers, making your fuel line maintenance. Bent jaws designed for removal and replacement of connections on fuel pipes. Spring loading action, easy to operate with one hand.